For modern architects, it's easier than ever to be green.

Motivated by worsening climate change and increased consumer demand, David DeQuattro reports that green building is now a $104 billion market. The sale of smart green buildings in the U.S. has risen from $1.3 billion in 2016 to $4.3 billion in 2020. The global green building market? It was $341.8 billion in 2020.

Green architecture is everywhere — community centers, high schools, colleges, apartments, and single-family homes. In the push toward a zero net energy future and prioritizing the protection of natural resources, green architecture is increasingly seen as essential.
Green Architecture Benefits
In Melbourne, Australia, the power of green architecture is on full display. The Pixel Building is the country's first carbon-neutral office structure. It produces all its own water and power on site. It has a rainwater-catching roof, sports numerous wind turbines, and is capable of processing wastewater.

The Pixel Building shows the overall potential of green architecture and sustainable design. The clear benefits include:
Improved Efficiency
Supplies of energy and water continue to dwindle and green architecture has found innovative ways to not just protect such vital resources but preserve them.

This is particularly important for large urban city centers where such shared resources are particularly strained.

Energy efficiency is key. Using alternative sources, including wind, sun, and water power, helps eliminate pollution from the ecosystem associated with costly nonrenewable energy sources. All told, green buildings reduce emissions of carbon dioxide by an average of 34 percent.
Long-Lasting
The sustainable materials prevalent in green architecture are built to last. This includes roof and deck materials that are typically upcycled even under harsh natural elements. They also eliminate the use of chemicals that have been shown to be detrimental to humans and the environment.
Operating Costs Reduced
Since green architecture optimizes energy output it also reduces the consumption of energy, cutting down energy costs considerably for corporations and individuals who live and work in green buildings.

Buildings that are certified through Leadership in Energy and Environmental Design (LEED) have been shown to lower everyday costs year after year.

One study found that LEED buildings cost maintenance costs by nearly 20 percent when compared to traditional buildings. Many governments also offer tax benefits for new green buildings or green retrofits.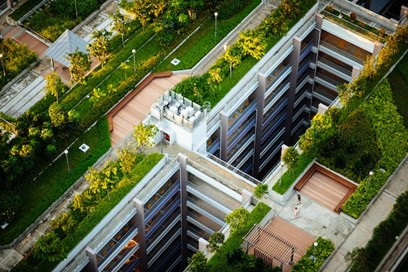 Better Quality of Life
In addition to eschewing harmful chemicals, green architecture has been widely shown to improve air quality for those who live and work in such buildings or in the surrounding areas.

A clean environment also may lead to increased productivity at work, and employees have shown improved focus and concentration. Green architecture achieves this in ways both big and small.

For example, interior design that integrates plants effectively maintains air circulation and quality which often lowers the risk of a range of pulmonary diseases.
Job Creation
The push toward green building has reportedly created millions of new jobs and bolstered the U.S. economy. In just three years, from 2011 to 2014, the national gross domestic product rose by nearly $170 billion.