One of the most recent projects undertaken by David DeQuattro and RGB Architects was to create a new fire training academy in Exeter, RI.

The design was completed in two phases. The first was to create a "burn" building measuring 3,550 square feet, a training tower, a storage building, parking spaces for emergency vehicles, and a 15,000 square feet training area. The second and final phase incorporated the fire department headquarters and classroom/office space.

Below, more on what the project entailed:
About the Rhode Island Fire Training Academy
Rhode Island has over 6000 firefighters enlisted within the state, so it is important that they all have access to the best training facility possible.

Holding the training facility in one place means that a coordinated effort can be made to ensure everyone is on the same page, and that every fire department has access to the same state-of-the-art technologies and facilities to enhance their practice.

These requirements included a top-of-the-range "burn" building for firefighting simulations, as well as space to carry out ground operations training. Classroom space was also required for theoretical learning.
Phase 1
The first phase of design and construction for the Rhode Island Fire Training Academy was to create the practical training space needed for the state's fire service.


This included a "burn" building, which is used by firefighters to set controlled fires to allow them to carry out a range of tests, training exercises, and simulations. This needed to be created and designed to strict specifications to not only ensure operability, but also the safety of firefighters training in the space.

The large, 15,000 square feet training ground was also completed in phase 1. This large area allows firefighters to carry out larger maneuvers, including learning how to operate larger fire trucks and equipment.

Construction of the structures and spaces for phase 1 concluded in 2011.
Phase 2
Phase 2 revolved around creating the other buildings needed at the site. A large, 8,100 square feet complex was designed as a place for fire department administration. This building also houses the classrooms used by firefighters for non-practical training and learning while at the academy.

This final phase of design and construction was completed in 2017, with the official opening ceremony for the training academy taking place on June 4th of that year.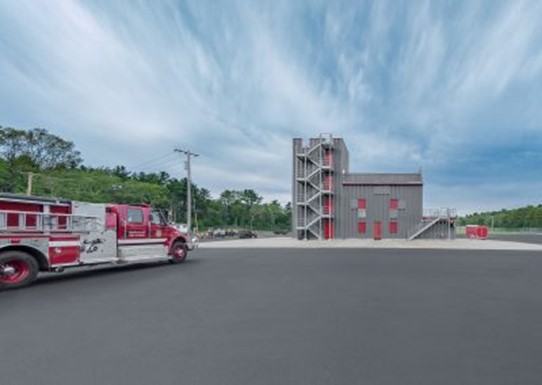 Future Impact of the Rhode Island Fire Training Academy
The $5.5 million project has helped to train hundreds of new firefighters across the state, including a program allowing high schoolers in Providence to complete a 150-hour training course to help to train the firefighters of the future.

This state-of-the-art training hub also reduces costs for local fire departments by allowing for collective training of trainees and firefighters from across the state, meaning that costly training programs don't need to be run for only one or two applicants at a time.
About RGB Architects
This is not the first municipal project for RGB Architects, who have designed many other plans for government buildings across Rhode Island and beyond.

Other projects have included health centers, schools, police stations, and libraries.